We have lane blocking devices that include large portable bollard so you can visibly block your valet lanes day and night.
PORTABLE BOLLARDS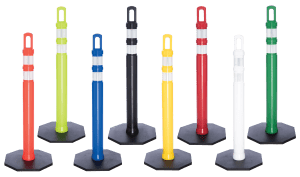 Small lane delineators also referred to as portable bollards are more common and easy to handle.

Large bollards in the middle of a valet lane can be intimidating and can help prevent over zealous taxis drivers and guests from entering restricted lanes.
LANE CLOSED SIGNS
Portable lane blocking signs designate which valet lanes are open or closed or designated for taxis, ride-share programs and shuttles.